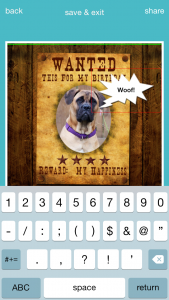 I'm really excited to unveil the latest app from RapDevPro – PulpPhoto!
PulpPhoto is about limitless creativity. With this app, you can place your face – or any photo part – into a cool template like a celebrity mug shot, Old West wanted poster, or a dizzying array of other categories.
But we didn't stop there.  You can also add stickers, personalized messages, dialogue balloons or memes to any template.  Let's say you're the kind of person (like me) who doesn't want to be constrained by a template. You can incorporate all of PulpPhoto's features into any photo, using no template at all.
Or, what the hell, go ahead and make your own template – upload a photo, draw your own circle to make a hole and put your little brother's face in it. Go nuts. That's what's really cool about this app. There are no restrictions. No boundaries. No rules.
After you're done creating (what we like to call) a "PulpPhoto", then share it across a wide-variety of social media including Facebook and Twitter with the fast and easy Apple Share Sheet. Use the hashtag #PulpPhoto to look for PulpPhotos that others have created.
PulpPhoto builds on the tradition of all the successful RapDevPro photo-editing apps that came before it: FaceOnPic, CardiffKook, and iAmCreature.
We hope you'll give PulpPhoto a try. Kick the tires. (Hey, put your face in a tire!) Test the limits. Except, there are no limits.  And that's the whole point.
Coming soon to Android, PulpPhoto runs great on iPhone 4s and 5s, as well as iPads and the iPad Mini; get it HERE.